Event Date/Time:
Friday, October 14, 2022 - 8:00pm
Don't Miss the David Valdez Quartet with John Stowell, Jasnam Daya Singh, and Dave Captein!
David Valdez is back in town in December after having lived in Kansas City since 2017! If you haven't yet heard David, you are in for a treat! He's a marvelous and super melodic alto saxophonist - and the very first performer at Loosewig! The evening will include both standards and original compositions in an intimate house concert setting.
David Valdez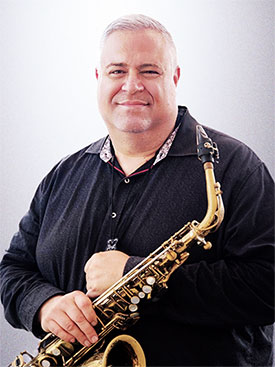 "David Valdez has shown himself to be a rigorously adaptable player and a jazz gent who can make things happen. With his broad shouldered alto tone he builds his solos architecturally like very few players.'
- Bill Smith, Willamette Week
"Alto saxophonist David "Carlos" Valdez is a full-throttle player with a rich knowledge of both bebop and latin jazz. You can hear in the warmth of his tone and the urgency of his wail, time-well spent in the jazz salt mines of NYC, the Bay Area, and beyond."
- Tim DuRoche- Strong Week
"Alto saxophonist David Valdez is one of the blazing lights of PDX's vastly underrated Latin music scene. Having worked with players both young (Danilo Perez, Kurt Rosenwinkle, Charlie Hunter, John Medeski) and older (Clark Terry, Dave Holland, Slide Hampton, Pharoah Saunders, Mal Waldron, Bob Moses), he's equally at home in bop, blues, and utter free blowing and muscles subtly into tunes with a Sonny Criss energy. 
- Tim DuRoche- Oregonian
 
John Stowell
John Stowell tours, records and teaches internationally. He has been Artist-In-Residence at schools in Germany, Indonesia, Argentina, and in the United States and Canada. He served as assistant director and performer in Oregon Public Broadcasting's PDX Jazz Summit in 1991, and since 1995 has been a contributing columnist for a number of magazines, including "Downbeat", "Guitar Player", "Canadian Musician", "Soundcheck" (Germany), and "Guitar Club" (Italy).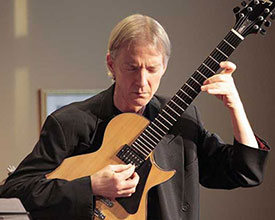 With bassist David Friesen, featured of the soundtracks of two Academy Award Nominated short films (Will Vinton Studios, Portland, OR, and Bosustow Studios, Los Angeles, CA). "Through the Listening Glass" with David Friesen was chosen of the "Ten Best Jazz Albums of the Decade" by the Los Angeles Examiner. John was chosen in the category of "Talent Deserving Wider Recognition" by Downbeat's International Critic's Poll, 1978 and 1979.

Recording/Performance Credits: Milt Jackson, Lionel Hampton, Art Farmer, Conte Condoli, Herb Ellis, Bill Watrous, Mundell Lowe, George Cables, Billy Higgins, Billy Hart, Richie Cole, Paul Horn, Tom Harrrell, Don Thompson, Dave Liebman, and many others.
 
Jasnam Daya Singh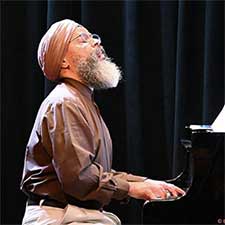 Born Weber Ribeiro Drummond in Rio de Janeiro , Brazil, Jasnam Daya Singh has participated as a pianist and band-leader in Jazz festivals all over the world: Brazil, Mexico, U.S.A. , France, Belgium , Japan , China and South Korea, to name a few, as well as shows and interviews in the most important  Jazz radio stations in the country such as KRML in Carmel and  KCSM in San Mateo, both in California. Jasnam has also performed extensively as a solo artist and sideman in Italy, Luxembourg, Italy, New York, Japan and Czech Republic.
Dave Captein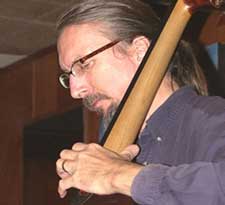 Dave is without a doubt one of the best bassists in the US. He has appeared with Mose Allison, Richie Cole, Tal Farlow, Art Lande, Red Holloway, Ernestine Anderson, Jack Sheldon, Nu Shooz, Marlena Shaw, Frankie Avalon, Jeff Clayton, Paul McCandless, Larry Coryell, Andy Narell, Jerry Hahn, Dave Frishberg, Randy Brecker, Steve Million, Ron Miles, Rick Braun, Kenny Drew Jr., Jessica Williams (appearing on 10 of her CD's), Joey De Francesco, Eric Alexander, Pete Christlieb, Gary Smulyan, Ron Eschete, Bud Shank, Ingrid Jensen, Jackie Naylor, Bobby Shew, Wynton Marsalis, Dick Hyman, Ken Peplowski, Steve Allen and Paul Smith, Bill Mays, Jeff Lorber, Benny Green and local luminaries such as Ron Steen, Mel Brown, Dan Balmer, Gary Hobbs and Rebecca Kilgore.
Requested Donation at the Door
$20 Adults, $5 Students (Nobody will be turned away for lack of funds. All donations go directly to the musicians.)
Please bring something to share and warm socks to wear.
This is a potluck jazz party event. Please bring something small to share with others (snacks, nuts, wine, etc.).
Please bring warm socks or house shoes. This is a shoes-off household.
The doors open at 6:30pm! Get here early for a good seat!
COVID Stuff
In order to protect the health of the Loosewig community, we require a COVID vaccination to attend this event. Please bring proof of vaccination or a negative COVID test from the previous 48 hours. Please plan on wearing a mask unless you're sipping a drink or eating.
RSVP Now!