Event Date/Time:
Saturday, February 11, 2023 - 7:30pm
Don't Miss the Perry Thoorsell String Jazz Ensemble!
Perry Thoorsell, a fixture on the Portland jazz scene has assembled a horn-free ensemble that you will truly enjoy. Including Eddie Parent on violin, Vince Frates onpiano, Perry Thoorsell on bass, and Kurt Deutscher on drums, this is an opportunity not to be missed.

Eddie Parente
Upon moving to Portland over 20 years ago from Jersey City, NJ, Eddie met the great Jazz violinist/bassist Rob Thomas and studied and played with him, developing a mutual respect and friendship that has lasted through the years. Eddie currently plays Viola with The Vancouver Symphony and also leads his own Jazz group "The Eddie Parente Quartet." Eddie is also very much in demand as a player of Gypsy Jazz, reminiscent of Stephan Grappelli/Django Reinhardt's "Hot Club of France." 
These days, since the Pandemic, Eddie has been studying intently with master saxophonist and composer Rob Scheps. Eddie leads his own quartet, playing original and mainstream jazz, playing duo with well-known guitarist John Stowell. The Eddie Parente Quartet has performed at the PDX Jazz Festival, the Newport Coast Jazz Festival, the Mt. Hood Jazz Festival, as well as appearing regularly in Portland Area Jazz Clubs.
Eddie also has a CD of his original Jazz and Latin compositions entitled "Touraco" and a CD entitled "Quartet Jazz" with his current Jazz Quartet.
---

Vince Frates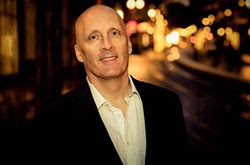 Vince Frates is a pianist and composer based in Portland, Oregon. He started playing the keyboard at an early age. His natural feel for music and language eventually led him to study music at the University of Utah. He studied composition and theory under Henry Wolking and Alan Weight. Inspired by the soulful pianist Wayne Chritiansen, Vince decided to play professionally. Years of performing with different bands ensued. Vince plays authentically in many styles including rock, funk, soul, pop, country, jazz and fusion.

Vince became an in-demand studio musician in the early 1990s. That work led him to composing commercial music. He went on to write for documentary films, film trailers, broadcast television and promotional music of all kinds. Among Vince's composition credits are Good Morning America, NBC Nightly News, ABC Sports and The Today Show. His film trailer credits include The Nightmare Before Christmas, The Lion King, The Adventures of Huck Finn and dozens more. Vince's large catalog of library music is regularly heard in diverse video productions.

He is currently working on numerous projects. Vince performs as a leader, soloist, accompanist and ensemble player. He is frequently sarcastic and seldom serious. He thinks he's hilarious. Just ask him.
 
---

Kurt Deutscher
Kurt Deutscher has the privilege of recording and performing with some of the world's finest musicians during the last 42 years.

Based in Portland Oregon for nearly all of his music career, he's performed at thousands of venues, events, concerts, festivals, ceremonies, musicals, parties, stadiums, launches, weddings, mergers, malls, mitzvahs, parades, casinos, graduations, recitals, celebrations, fairs, clubs, halls, dances, ships, boats, barges, grand openings, showrooms, conventions, conferences, racetracks, shows, theaters, studios, vineyards, and even on a moving train.

For nearly two decades, he has made a living as a full-time musician and music educator. 
 
---

Perry Thoorsell
Performances and/or recordings with top jazz musicians including Smith Dobson, Jessica Williams, Larry Vuckovich, Donald Bailey, Eddie Henderson, Sonny Simmons, Mark Levine, Joe Henderson, Jamie Davis, Marvin Stamm, Kurt Elling, and Tootie Heath. Live shows backing traveling headliners including Bobby Rydell, Dick Contino, Julius LaRosa, Rita Moreno, Anna Maria Alberghetti, Pete Barbutti, Jim Bailey, Jerry Vale, Diahann Carroll, and Frankie Laine. Musical Theater credits include "Stardust," "By George," "Godspell," "In the Heights," and "Camelot." Festival performances include PDXJazz Festival, Cathedral Park Jazz Festival, San Jose Jazz Festival, San Francisco Jazz Festival, Aarhus Jazz Festival (Denmark), and Stanford Jazz Festival.
 
Please bring something to share and warm socks to wear.
This is a potluck jazz party event. Please bring something small to share with others (snacks, nuts, wine, etc.).
Please bring warm socks or house shoes. This is a shoes-off household.
The doors open at 6:30pm! Get here early for a good seat!
COVID Stuff
In order to protect the health of the Loosewig community, we require a COVID vaccination to attend this event. Please bring proof of vaccination or a negative COVID test from the previous 48 hours. Please plan on wearing a mask unless you're sipping a drink or eating.
RSVP Now!